2019-08-27
I have been working furiously behind the scenes trying to organize my overly massive yarn stash. You know the type – a few boxes here, some bags of yarn stored in my bedroom closet, some baskets full in the living room, unfinished objects stored here there and everywhere – it's totally out of hand!
Back in January, I decided that everyone else in my home had their own space and I deserved some too! I'm the mom, after all. Why am I the last to have a space of my own? So, I set about cleaning out the chaos that was our "game room". It was full of unused homeschool supplies, various items that nobody knew what to do with, and lots of video games that my son played in there. With his help, we whittled down the mess and I was able to create a nice living space in there. I like it a lot! But, so does everyone else, lol, so the space mom set up for herself is also communal. Isn't that the way it goes?
But, I'm getting more serious about getting my business started and that meant phase 2 kicked into high gear after the conference. There isn't a lot of storage space in this room and all the floor space is taken up by the big comfy sofa and my desk so I had to get creative.
Enter pegboard!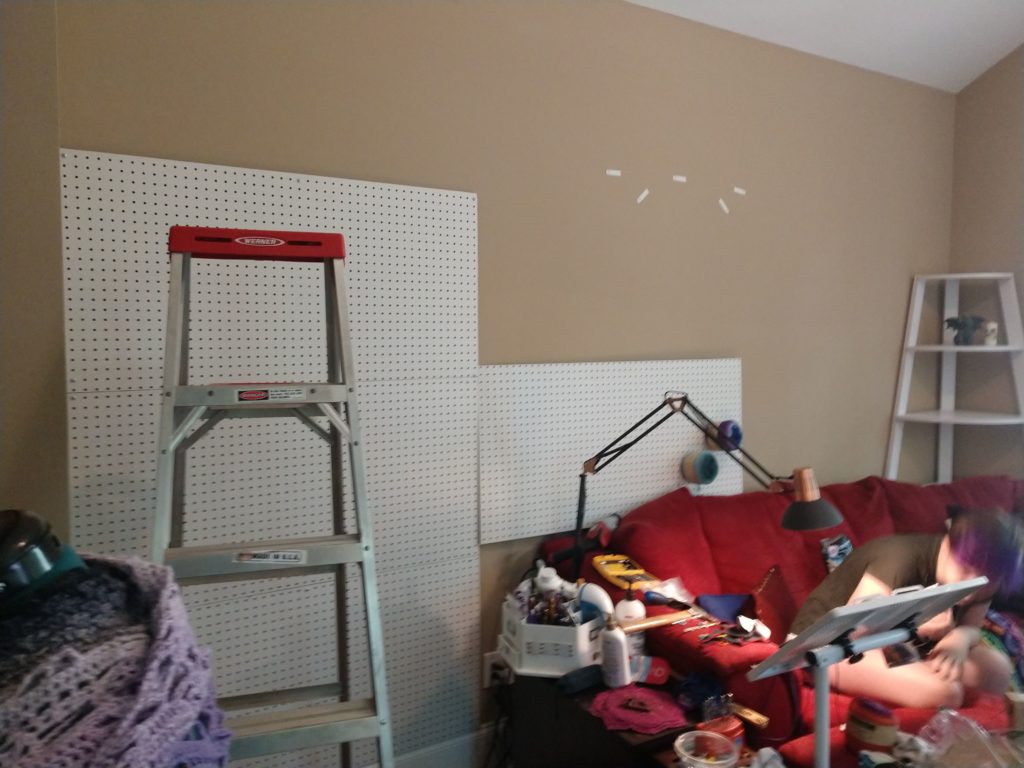 I covered the one big wall that has no windows or doors with pegboard. 10 pieces of 2×4 foot pegboard, to be precise. It is a hugely versatile storage solution and I encourage you to consider too. Best part, it's affordable! And modular so you can build it as you need it!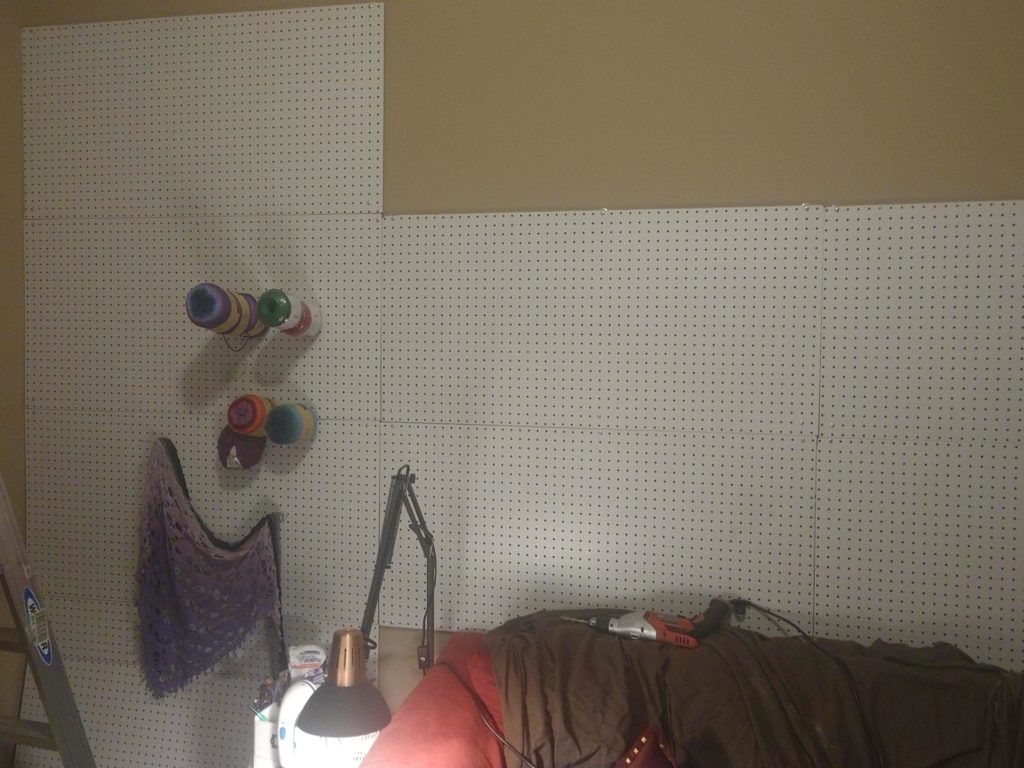 Once the wall was in place, I started with one hundred 4 inch hooks. They hold about 1 ball each. Anyone know how long that lasted? About 2 hours before I realized I needed a lot more.
Now some people get all tidy and wind each ball on their winders, but who's got time for that! I decided to go with a more lackadaisical method – hang it the way it is. So some is hung as balls, some as cakes, some as skeins, some as hanks. I didn't get too hung up on color perfection either. I did mostly an arc that follows the colors of the rainbow but there's room for expansion at the top and bottom. The result is a beautiful piece of wall art that gets all my yarn where I can see it for inspiration.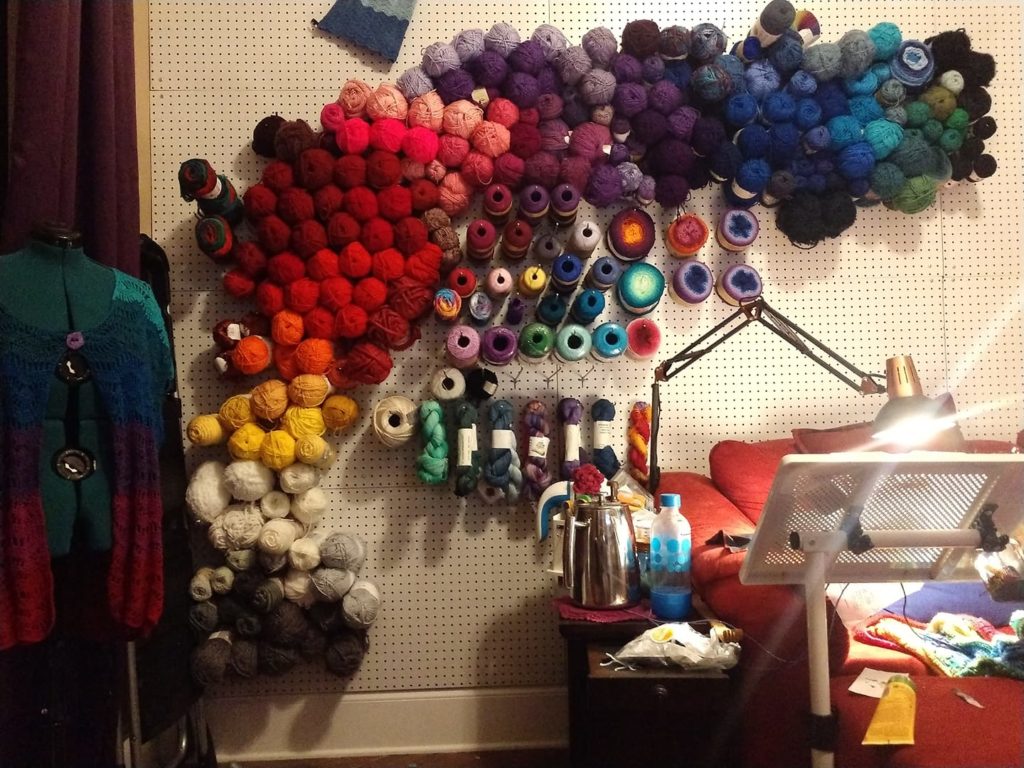 Want to build your own? Here's a quick list of all the supplies I used:
4 inch hooks – the vast majority of my yarn is hung on these hooks. I can fit most medium balls and cakes on these hooks. I have purchased 350, but in the pictures on this post, I have only used about 250:
10 inch hooks – hold 3 small balls of thread, 2 large balls of thread, larger skeins of yarn like RHSS, or multiple hanks of yarn. I currently have 100 but will soon be ordering more:
50 total small plastic hooks in two shapes – these are to display finished projects and support my Yarn Vault sign. One package is all you need to do a wide variety of tasks.
12 inch hooks – these aren't really necessary, but they hold large skeins of yarn slightly better than the 10 inch hooks. I'm only using a few here and there.